Summer Classes and Camps
for Youth and Teens
Scholarships and family discounts available for all classes and camps.
Pre-registration required.
For additional information, call the Fine Arts Center at 435-723-0740
2 - 7 years old Fridays, June 9 - August 11 10 -11 am Story Hour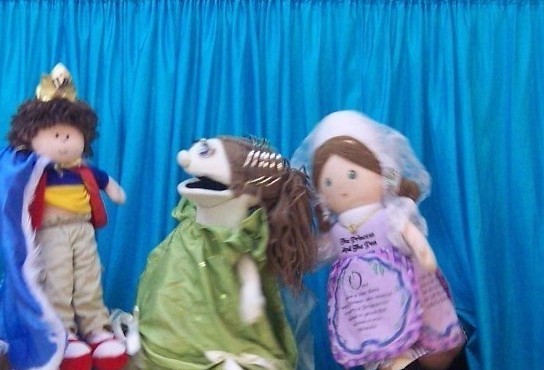 Includes stories, songs, crafts & puppets.
$10/child, $25 / family for all 10 weeks, or $2/ child , $5/family weekly
10 - 16 years old Monday - Friday, June 19 - 23 9am - 2 pm Intermediate Theatre Camp
"The Playground"
Instructor: Colton Kraus

This 5 day camp is an introduction to Location or Site Based Theatre. Site Based theatre is a theatrical production that takes place in the same setting as the events in the show. Through this class, performers will strengthen the tools that they already have such as projecting, character development, and use of body and space. The final day of class will end with a production of The Playground which is a short play made up of smaller scenes, or vignettes, that all take place in a playground. Performance Location: TBD
This class may require parent volunteers to help transport students from the Fine Arts Center to the Performance Location 2-3 times during the duration of the week. More information and arrangements will be given the first day of class.
$80
All ages, students 8 and younger must be accompanied by an adult
Tuesdays, June 13 - July 25, (no class July 4th) 5 - 6 pm Ukulele Class

A fun group ukulele class for the whole family! This class is great for spending time with family and friends. Ukuleles are available first come first serve. If possible please provide your own ukulele.
Instructor: Cristina Edlund
$35
Pre-school / Early Elementary Program
5- 13 years old Monday - Thursday 9am - 2 pm Art Exploration Camps
Art, Music, Crafts, Theatre, puppetry and science for ages 5 to 13 years. Different themes are offered each session. Cost is $75 per student per session, family discounts and scholarships available. Each week ends with class presentation on Thursday at 1 pm.
$75


Session #1 June 12 – 15, "Enchanted Forest"
This camp is FULL
Session #2 July 10 – 13, "Trip to the Moon"

Almost Full (Call for availability) 435-723-0740
Session #3 July 31 – August 3, "A Bug's Life"
8- 13 years old Monday - Friday, June 19 - 23, 9am - noon, 9 - 2 pm on Thurs "Let''s Flock Together"
Bird Adaptations
Enjoy a week of hands-on learning, writing, drawing, sculpting, crafts and exploring in this combined nature and art camp all about Birds. Class is 9 am to noon, 9 am – 2 pm on Thursday for Bird Refuge Car Tour.
Program for parents on Friday at 11 am.
Instructors: Linda Lowe, Natalie Stallings
$65
Nature Camp
Let's Flock Together,
Bird Adaptations
11- 18 years old Monday - Friday, June 26 - 30 9:30am - 2:30 pm Cabaret-Style Musical Theatre
"Curtain Up"
Instructor: Laura Anderson

Final Performance June 30th at 3:00

Description: This week-long camp will provide an imaginative outlet for youth as well as provide them with the tools to develop foundational acting, singing, and dancing skills by rehearsing a cabaret-style musical theatre show. The final day of camp finishes with a performance showcasing these skills and talents developed throughout the week for family and friends to enjoy. Some song selections include: It's A Hard Knock Life(Annie), Castle On A Cloud(Les Miserables), I Know Things Now(Into the Woods), and I Just Can't Wait To Be King(The Lion King).

$80
Audition Apollo Theatre Company Cast Fee
11- 18 years old June -August Apollo Theatre Company
"Broadway Jukebox"
$70 Cast Fee / dues
$ 60

This is only for the members of Summer 2023 Apollo Members, please do not sign up for this class or pay dues if you did not audition and get accepted as part of Apollo, thank you.
Instructor: Colton Kraus
July 17-20 Monday-Thursday
Students will be able to audition for, rehearse, and perform a musical adaption of Maurice Sendak's "Where the Wild Things Are" adapted by Colton Kraus. Theatre camp will surely show your performer what it's like to be in a show as the students work together to create a cohesive and memorable show.

$65
Instructor: Seth Mulkey
Tuesdays 3:00-4:15

Join our exciting summer theatre class and unleash your inner performer! Over eight weeks, you'll learn how to create your own unique character, design a costume and props, and finally, present your character to the class in a fun and interactive demonstration. Through improvisation and role-playing exercises, you'll explore the art of acting and gain confidence in your abilities. With the help of Seth, you'll develop your creativity and imagination, while also building teamwork skills and making new friends. This class is perfect for anyone looking to have fun, learn new skills, and showcase their talents in a supportive and encouraging environment.

$40
10 - 14 years old Tuesdays June 13- August 15 3:00 - 4:15 pm Crafting Characters
Theatre Class
8 - 11 years old Monday - Thursday, July 17 - 20 9am - 2 pm "Where the Wild Performers Are"
Theatre Camp
6 - 9 years old Mondays 2:30-3:30 June 12-August 14 Begining Musical Theatre

Theatre Camp
Instructor: Colton Kraus

For up-and-coming performers who want to try out musical theatre at a slower pace!

$35
8 - 11 years old Mondays 3:45-5:00 June 12-August 14 Performers of the Future

Apollo Junior

Instructor: Colton Kraus with help from Members of the Apollo Theatre Company
July 17-20 Monday-Thursday
This class will expand on your child's ability to sing, dance, act, and perform! This is a great class for returning performers of the Fine Arts Center, or younger performers that have had experience performing before, it's also perfect for charismatic students who have a knack for being in the spotlight. Students involved in Apollo Juniors will also have ample opportunities to work with the Apollo Theatre Company and be a part of their Summer Showcase.

Performing with the Apollo Theatre Company is not required for this class.

$45
9 - 14 years old Monday - Friday, August 14 - 18 9 am - 1 pm Puppets on Parade

Each student will make a high quality, hand-stitched fabric puppet. This fun camp will culminate in a final showcase for friends and family on Friday at 12:30 pm.
Instructor: Gabe Parkin, Susan Neidert
$80
Audition Apollo Theatre Company Bear Lake Trip
The Bear Lake Trip is only for Apollo Theatre Company Members.
the final cost is $85.00