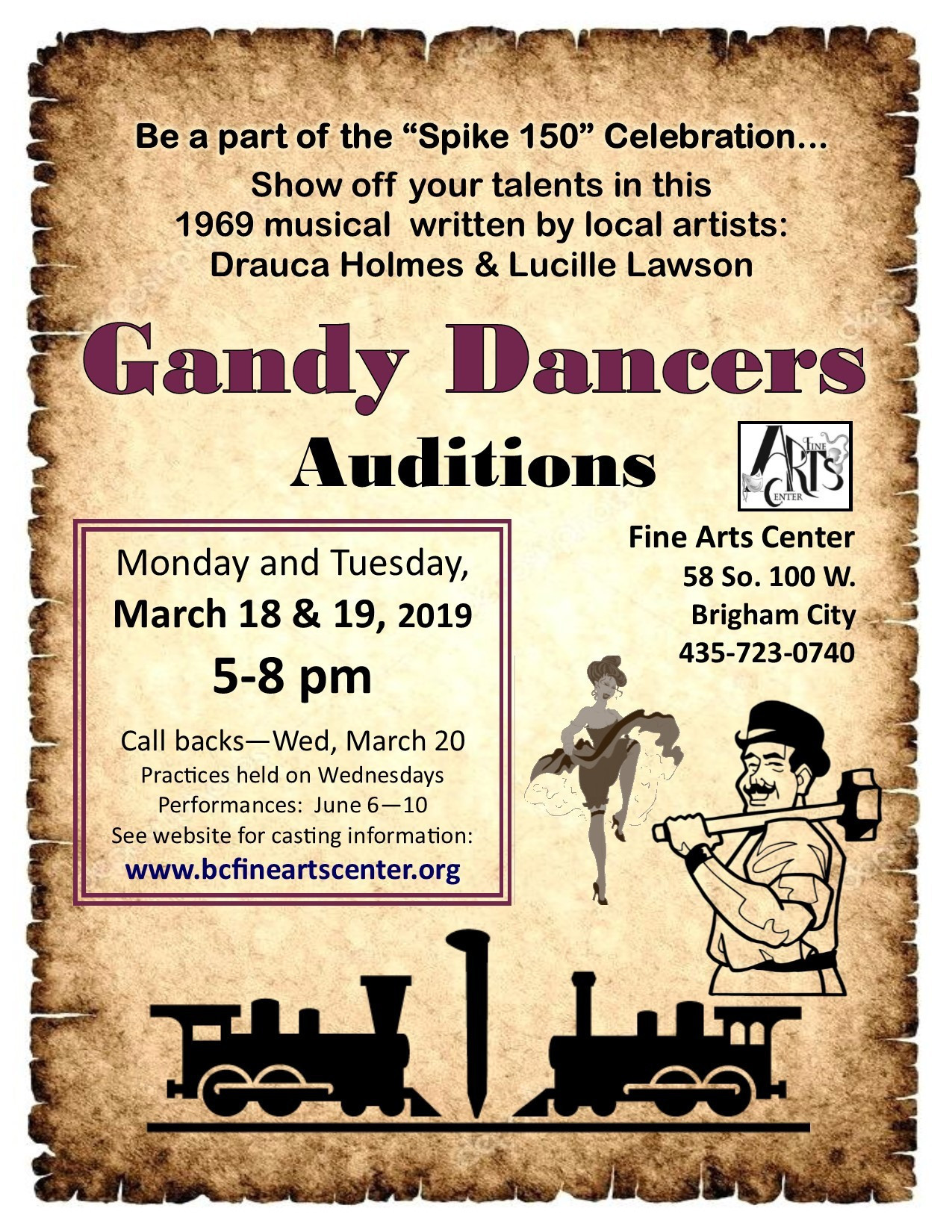 Additional audition days are Tuesday and Wednesday, March 26 & 27 from 5 - 8 pm, or by appointment. The cast of 20-30 requires at least 7 male and 8 female parts. Come prepared to sing 8-12 lines of a song and share your vocal range for a variety of solo parts. Production is set to be performed June 6,7,8 and 10. Call, text or email for additional information or for any questions. Co-directed by Steven Jenks, Annette Macfarlane, and Susan Neidert.
More info on the casting call for Gandy Dancers:
MAIN CHARACTERS:

Bishop David Parker - Middle age man and Mayor of Brigham City- Sings in a quartet
Mark Mason: Surveyor for the Union Pacific Railroad - Starts dating Bishop's widowed daughter; Sings and dances
Laura Nichols: Bishops widowed daughter - sings and dances
Sarah Lou Parker: Bishop's younger daughter ( teen 16-18 years) Sings and dances, ( ballet and can- can dancer)
Chuck Murphy: Mark's side kick- big, strong man. Sings and dances
Bill Crocker: One of Marks men- sings and dances
Minah Parker: Bishop's youngest wife ( middle age)- Sings
Harriet Parker: Bishop's second wife ( older -50s) -Sings
Judd Tippets: Sarah Lou's teen boy friend about 19 years - Sings and dances
Stan Richards: ( and wife) Mormon man late 20's Chorus member-sings
Fiddler: plays a hoe down for the town picnic
Nute Gifford : Foreman for the Central Pacific railroad
Bob Walker: Proprietor for the Red Cloud Saloon ( about 40 yrs.) -Sings
Soiled Doves: Need 3-5 young ladies of the evening to sing and dance
Corinne Tomlinson_ singer for whom the town of Corrine is names after- sings
Additional towns people and railroad men for both the Union Pacific and the central Pacific railroad companies also do some chorus singing.
There is also a great duet song for two young boys- about Jonah and the whale. Auditions for these and 3-4 other children's parts will be announced early to mid may after other rehearsals get under way.
There are some great solo pieces in this play. A CD of some of the music is available- we will try to get some of the music online over the weekend.
"The Gandy Dancers is a fictional musical about the clash of cultures between the Mormon community in Brigham City and the railroaders at the time of the driving of the golden spike in 1869. While the individuals are fictitious, the incidents and setting are historical . Mark Mason is intrigued by the lovely widow, Laura Nichols, but their relationship is strained by the differences in their backgrounds as well as the arrival of Corinne, Mark's former fiance. Sarah Lou provides many delightful comedic and musical moments of the show as well as some of the most critical problems for the Mormons as she symbolizes their gradual absorption of the new ideas. This show is a musical romp some times hilarious and sometimes heart rending. Written locally by Drauca Holmes and Lucille Lawson in 1969 and enthralled audience for the Centennial celebration of the spike site. We are delight to have their permission to bring it back for the 150th celebration.
FYI: "Gandy Dancers" were the "section" railroad workers or track layers. There are various theories about the derivation of the term, but most refer to the "dancing" movements of the workers using a specially manufactured 5-foot (1.52 m) "lining" bar, which came to be called a "gandy", as a lever to keep the tracks in alignment.