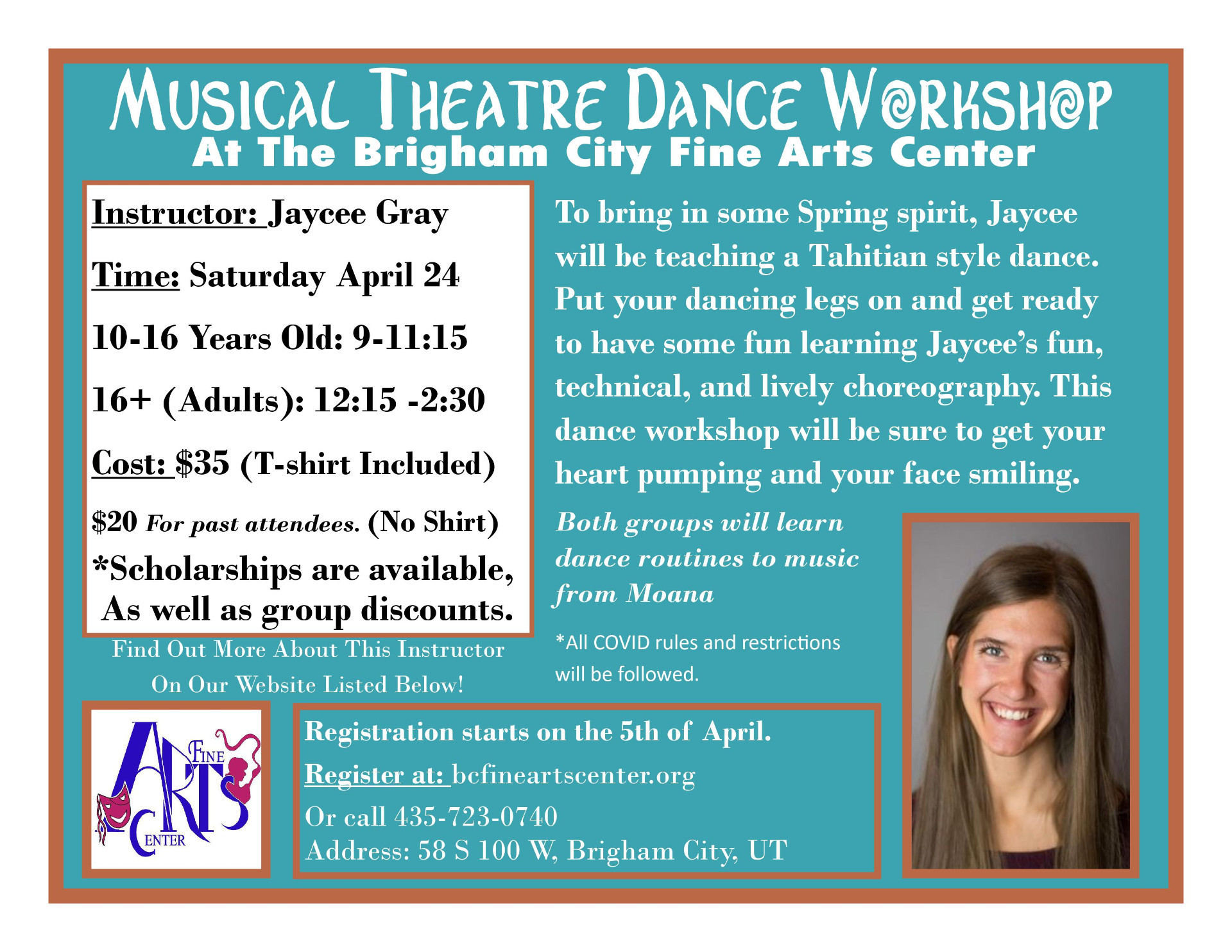 Musical Theatre Dance Workshop
Saturday, April 24, 2021
Now Including An Adult Session
April 24, 2021
Pr-register and Pay Here
$35 includes T-shirt
$20 If you have already purchased a T-Shirt
Ages 10-16: 9:00 - 11:15am
Ages 16+: 12:15 - 2:30 pm
Adults Of ALL Ages Highly Encouraged
If You Already Have Purchased A Fine Arts Center Shirt, Make Sure You Wear It To The Workshop!



If interested in scholarship information or group discounts please call 435-723-0740
*All Covid rules and regulations will be followed during this workshop. Masks are required, personal water bottles are highly encouraged.

Interested In More Than Just A Workshop?
Check out the Apollo Theatre Company
For family discounts please pay in person at the Fine Arts Center.

2 Students: $50 or $35

(No shirts needed.)



3 Students: $75 or $50

(No shirts needed.)



4 Students: $100 or $65

(No shirts needed.)



Ages 10-13
"Stepping Time" from

Mary Poppins
Ages 13-21
"Seize The Day" from

Newsies
Instructor: Stephen Millsap



Stephen is a Box Elder High School Alumni. He began dancing at age five, at some point fell in love with musical theatre, and the rest is history. A native of Logan, he recently appeared as JoJo in Newsies and a chimney sweep in Mary Poppins with Utah Festival Opera as well as Romeo in Newsies (Dual Language ASL/American English) at the Ziegfeld Theatre. Other favorite shows include "Oklahoma!" "Man of La Mancha," and "Footloose!" Stephen is currently training to become a civilian pilot at Utah State University.
About Jaycee Gray

I'arona! Jaycee is a visual and performing artist. She recently graduated WSU with Honors and a BA in Art and Dance in 2020. She loves all forms of dance and will be teaching a Tahitian style of dance to a song from Moana for both workshops. She grew up learning Hawaiian and Tahitian dance from her mom and they are currently taking classes in a group called Ori Tahiti Syracuse. Jaycee loves the Polynesian culture and loves sharing stories through dance. She has been a featured dancer in Footloose, Mamma Mia!, Newsies ASL, and Freaky Friday. Jaycee also loves Halloween and she has performed as Lefty in Hackenslash at Lagoon's Frightmares the past 3 years. She is currently rehearsing to perform as a wolf in the witch's army for a Narnia production.
Ages 10-16
"Footloose Finale" from

Footloose
Ages 16+
"Seize The Day" from

Newsies
McKenna Ward has been training in dance for 21 years and started her training at Campbell's Dance Expressions in Arizona where she first started out in Tap and Ballet, then moved to Utah and started at Elite Dance Force under Misty Robbins where she continued her Jazz, contemporary and Hip Hop styles, and later Elite Dance Alliance under Heather Cashmore. During Mckenna's dancing career she had worked among professional dancers and choreographers. McKenna started teaching dance at age 15, and at age 16 she started to pick up Acting and Musical Theatre where she made her debut as Dream Laurie in the Musical Theatre production of Oklahoma! Since then she has done multiple musicals such as West Side Story, Young Frankenstein, Mamma Mia, and also the musical Tarzan where she trained to be an aerialist. She recently choreographed A Chorus Line at the Ziegfeld Theatre/Egyptian Theatre (Park City). For the past few years, McKenna has been performing in Lagoons Frightmares and has really enjoyed keeping up with her dancing career and performing onstage for other events such as Equality Utah and she just recently joined Underground Dance Crew.