ART TELL 2019:


April 15 - 20
Monday April 15, @ 4 pm - Youth Art Contest / Storytelling
Youth Art Exhibit opens and winners announced.
Youth Story telling winners also announced and stories shared. Youth Art on exhibit Monday through Saturday 1:00 - 7:30 pm
Tuesday and Wednesday - April 16 & 17
Themed art entries (adults and High School students) received 1:00 - 6:30 pm. All entries due by Wednesday April 17th at 6:30 pm.
Youth Art on Exhibit.
Thursday - through Saturday - April 18, 19 & 20
Exhibit of Themed Art Competition open 1:00 - 7:30 pm

Friday -
Art Exhibit open 1:00 - 7:30 pm
FREE Music in the City Concertat 7:30 pm
featuring the mariachi band: Mariachi de mi Tierra

Saturday Gala Dinner,
Sat. April 20 Gala Dinner: (Dinner reservations due Monday 4/15/19.)

Dinner at 6 pm
Art Exhibit open 1:00 - 7:30 pm
Free Art Awards Reception at 7:30 pm. Come meet the artists and congratulate the winners.
Come join us!
Bring your art in, or come to look, and be inspired by local artists.
A variety of mediums welcomed.

Entry fee only $10 for each piece of art work entered.

Cash prizes for winners in both professional and amateur categories.
"On Track for shaping
the Future"
In honor of the 'Spike 150" Celebrations, our ART -TELL theme this year is "On Track for Shaping the Future". Spike 150 is a statewide and national celebration of the joining of the rails 150 years ago in 1869. This beginning of the transcontinental train system changed the future of this country, the completion of which happened in our own backyard in near by Promontory, Utah. The celebration is not only highlighting railroad history, but the results of the determination and innovation that made it happen.
Artists in Our April ART-TELL competition, will be asked to address the "On Track for Shaping the Future " theme in a 25 word or less comment on their artwork. Trains and/or railroad art need not be part of the entry. The emphasis can be on innovation and similar thoughts about the future or other personal interpretation. A call to entries for artists in Box Elder, Cache and Weber counties. All visual art media are welcome- paintings, drawings, fiber arts, Sculpture, photography,etc. welcome. Each artist may submit up to 5 pieces of art work, each with an entrance fee of $10.
About the theme for the annual adult art competition:
ART-TELL: Telling a story through art and enjoying the art of storytelling.
2019 ART-TELL events
Youth and Adult Art Contests will be on display on the lower level of the Fine Arts Center. Bring your friends and family and enjoy all the amazing art!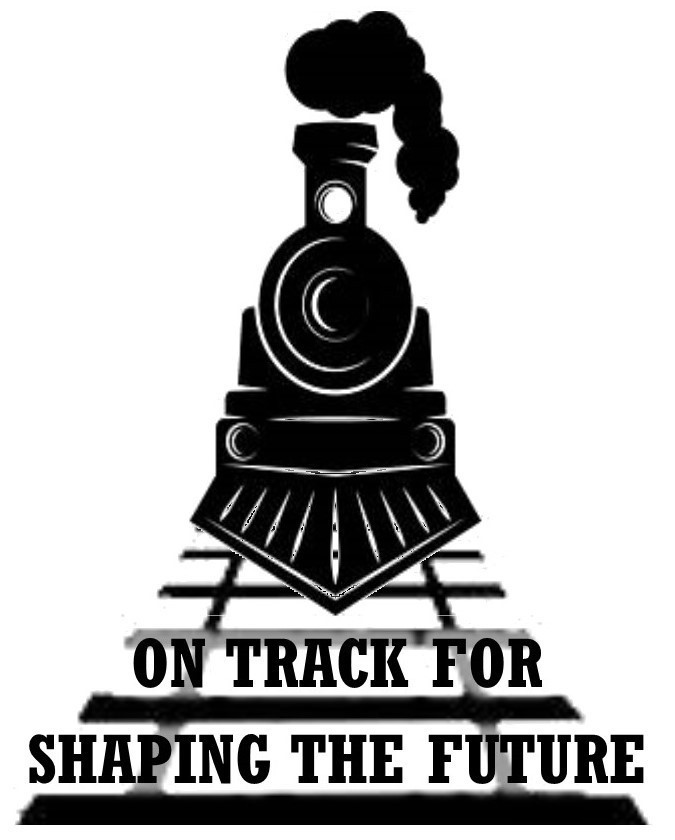 Youth

Art

and

Storytelling
We are again offering youth art and storytelling contests for students kindergarten thru 9th grade living in Weber, Box Elder or Cache County.
WHAT TO DO: 1. Pick a story and plan a picture that could be used in a book about it (as an Illustration). The story can be one that is made up, or from any book the student has read. 2. Create your vertical (portrait) format picture on a 7 ½ wide by 10 inch high piece of paper. (trim ½ inch off each edge of an 8.5 by 11 sheet of paper) You can use colored pencil, water color pencils, regular watercolor paints, felt tip pens, charcoal pencil, crayon, construction paper, torn tissue paper collage, or any other 2 dimensional media you choose. 3. Glue the artwork to the center of a 9" wide by 12" high sheet of colored construction paper and turn in with entry form. Photo copies of larger pieces of art work shrunk to the 71/2 by 10 inch size can be used. There is free construction paper at Fine Arts Center if needed.
RULES AND OTHER INFO: 1. All art work must be the youth's original design and work (no coloring book pages or use of clip-art or published cartoon characters) 2. All entries are due on or before 5 pm, Thursday, March 28 with a completed application/ entry form attached. Fill out entry form and drop off work at Fine Arts Center: 58 South 100 West Brigham City – enter through the back door. 3. Chosen art work will be on display at Brigham City Fine Arts Center from April 15 - 20. Parents are responsible for picking up artwork at the Fine Arts Center afterward (April 22 & 23).
JUDGING, DISPLAY, FOLLOW UP: At least three judges will be called in to judge artwork, and winners will be announced Monday afternoon April 15, 4:00 pm at Brigham City Fine Arts Center along with a youth storytelling event. First and second place winners will win cash awards and prizes. Winners will be chosen from at least three different age groups. (K-2nd grade, 3rd through 5th grade, and 6th thru 9th. ) We reserve the right to display only the top 40 entries at the ART-TELL event.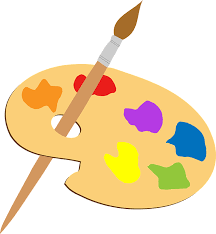 YOUTH STORYTELLING CONTEST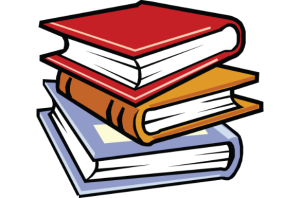 This contest is scheduled for Friday, March 29 at 4:00 pm at the Fine Arts Center, 58 South 100 West, Brigham City. Interested persons need to call and register their intent on or before Wed. March 27. There is no fee for entering. Winners will be invited to perform at the ART-TELL presentation Monday, April 15 and at a dinner celebration Saturday April 20. This is an especially great experience for theater students. First place prize of $20 will be awarded. An additional prize is being offered to the school with the most significant participation. All entrants must be from Weber, Box Elder, or Cache County.
CATEGORIES: Grades K-2, grades 3-5, grades 6-9
JUDGING CRITERIA: A copy of the judging criteria is available at the Fine Arts Center. It includes: Telling the story from memory, having an engaging introduction, poise, enunciation, voice expression, eye contact, facial expression, body language, appropriate gestures, pacing, enthusiasm, connection, satisfying ending, and uniqueness of telling. Stories need to be 3 to 7 minutes in length. Students will be expected to announce the title and the source of the story: ie author, or origin of the story. See full page of guidelines on website or at the Fine Arts Center. Additional points will be given for tying the story in to this year's ART-TELL theme of "On Track for Shaping the Future". We will have at least three judges, representing storytellers and educators from the community.
MORE ABOUT ART-TELL 2019: ART-TELL will also feature a themed art competition for adults and high school students April 18 through April 20 at the Fine Arts Center, 58 S. 100 W. Brigham City.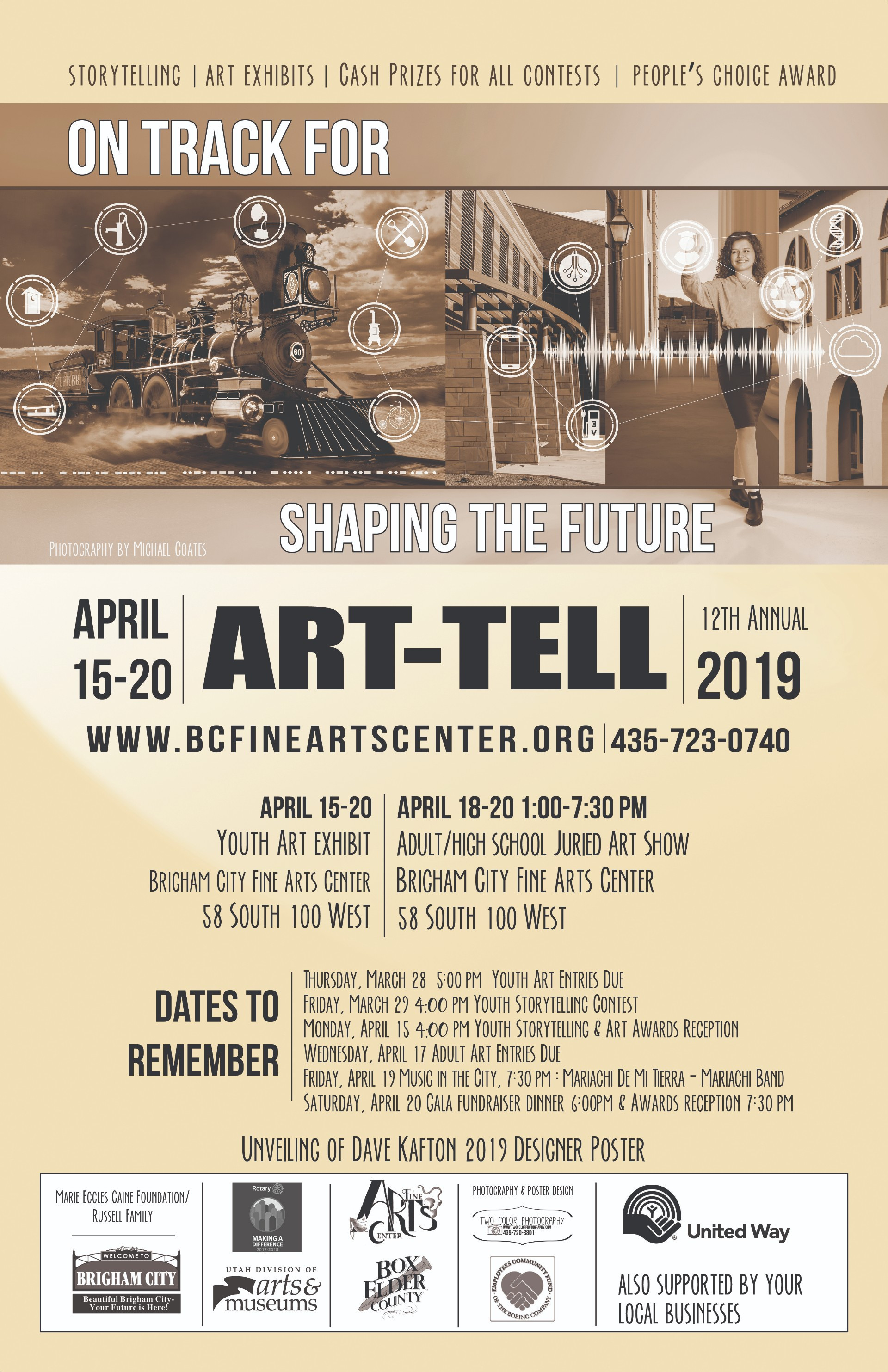 For Adult
Art Contest Information
and Entrance Forms